K R Vijaya was born as Deivanayaki in 1948. She is an Indian actress who has done Tamil, Malayalam, Telegu, Kannada and Hindi language films. The actress started her career in the 1960s. She has acted for more than six decades in the South Indian film industry. The star has worked with almost all the legends of the South Indian cinema and has acted in about five hundred movies.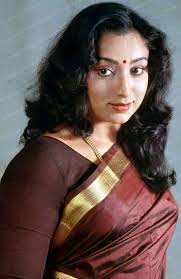 K R Vijaya Actress, Age, Biography, Movies  
| | |
| --- | --- |
| Name | K R Vijaya  |
| Real name | Deivanayaki |
| Birthplace | Trichur (Present-day Kerala), India |
| Nickname | Punnagai Arasi |
| Date of birth | 1948 (Date and month Unknown) |
| Profession | Actress |
| Years active | 1963- Present |
| Age | 71-72 |
| Husband | M. Sudarshan Velayudhan (m. 1966 to until his demise on 26th March 2016 aged 82) ( Businessman and producer) |
| Children | Hemalatha ( born on 1967) |
| Father | Ramachandran (army) |
| Mother | Kalyani (housewife) |
| Sisters | K.R. Vatsala, K.R. Savithri, K.R. Sashikala and K.R. Radha |
| Brother | K.R. Narayanan |
| Niece | Ragasudha, Anusha and Swathi |
| School | Government Higher Secondary School, Punkunnam, Thrissur |
| College | Unknown |
| Educational Qualifications | Unknown |
| Height | 5'2" or 157.48cm or 1.57m |
| Weight | 65kg or 143lbs |
| Figure measurement | 34-32-36 |
| Eye colour | Black |
| Hair colour | Black |
| Religion | Hinduism |
| Debut | Karpagam in 1963 |
| Hobbies | Reading and writing |
Early life and Background 
K R Vijaya was born as Deivanayaki to parents Ramachandran and Kalyani in Trichur, Kerala. Her father was from Andhra Pradesh and mother was from Thrissur, Kerala. Ramachandran was in the army and Kalyani was a housewife. She has a younger brother K.R. Narayanan and four younger sisters – Vatsala, Savithri, Sashikala and Radha.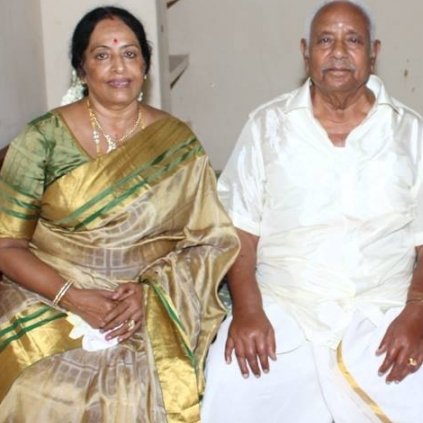 She did her schooling from Government Higher Secondary School at Thrissur. The actor's father always wanted her to be an actress as he himself was acting in M.R. Radha's drama troupe after his retirement from the army. She made her dut with the film Karpagam in 1963. She was the first actress to ever own a private jet.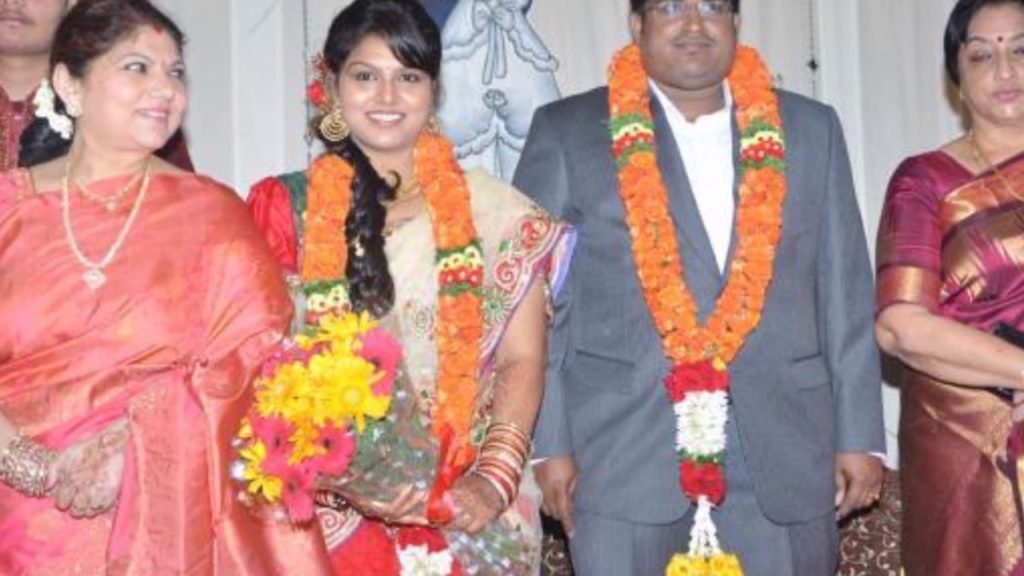 Personal life 
The actress married a businessman named M. Sudarshan Velayudhan in 1966. He was the CEO of Sudarshan trading company and a movie producer.  The couple has a daughter together named Hemalatha in 1967. The couple were together until Velayudhan's demise on 26th March 2016, aged 82.
Personal favourite's
| | |
| --- | --- |
| Actor | Chiranjeevi |
| Actress | Meena Kumari and Madhubala |
| Director | K.S. Gopalakrishnan |
| Film | Nathayil Muthu |
| Colour | Blue, red and white |
| Cuisine | South Indian |
| Food | Dosa and vada |
| Destination | Kerala |
Career
K.R. Vijaya made her debut in 1963 with the lead role in the film Karpagam directed by K.S. Gopalakrishnan. The director also was the director of her 100th film Nathayil Muthu.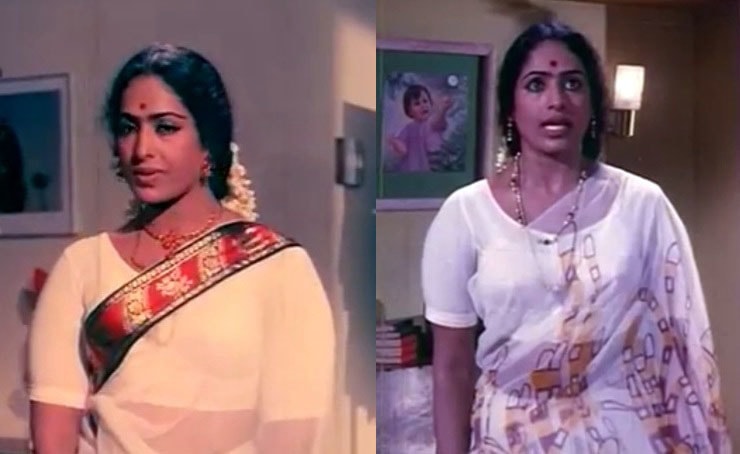 She has done almost four hundred films in all South Indian language films, including 100 films each in Tamil, Malayalam and Telegu. The actor has done half a dozen films in Kannada and one in Hindi, Oonche Log in 1965.
Her Hindi movie debut had two other stars – Raaj Kumar and Feroz Khan. She has acted in a bunch of successful movies. She starred opposite M.G. Ramachandran and played supporting roles in Naan Aanaiittal. The actor acted opposite Sivaji Ganesan and did successful films like Kai Koduttha Dheivam, Saraswati Sabatham etc. She also acted opposite Muthuraman in films like Thozhilali, Kanni Thaai etc.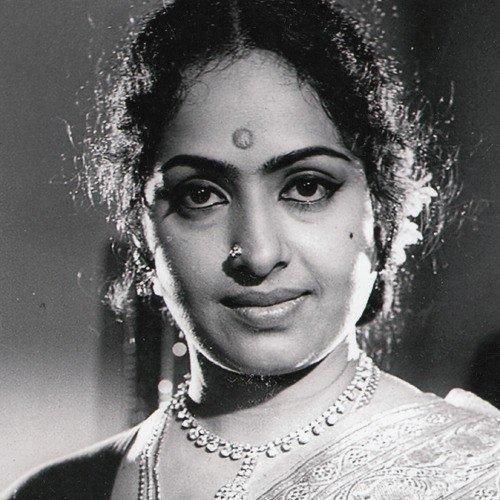 The actress stopped acting temporarily in movies in 1994 when her husband suddenly fell sick and made a comeback in television and continued till 2007. After her husband's death in 2016, she became active in both movies and television. 
Some movies 
Karpagam
Nathaiyil Muthu
Oonche Log
Ninaivil Nindraval
Thenmazhai
Ooty Varai Oravu
Patanathil Bhootam
Server Sundaram
Kandan Karunai
Paladai
Anarkali
Idhayakamalam
Thozhilali
Thazhampoo
Panama Padaithavan
Kanni Thaai
Naan Aanaiyittal
Vivasayee
Naan Yen Piradhen
Nalla Neram
Kai Koduttha Dheivam
Saraswati Sabatham
Selvam
Thangai
Kandhan Karunai
Nenjirukkum Varai
Paaladai
Thiruvarutselvar
Ooty Varai Uravu
Iru Malargal
Thirumal Perumai
Thirudan
Raman Ethanai Ramanadi
Ethiroli
Sorgam
Thavapudhalavan
Bharatha Vilas
Thangs Pathakkam
Girahapravesam
Naam Pirandha Mann
Justice Gopinath
General Chakravarthi
Thirisoolam
Naan Vazhavaippen
Rishi Moolam
Kalthoon
Sathey Sundharam
Oorukku Oru Pillai
Neethibathi
Miruthanga Chakravarthi
Sathanai
Simma Soppanam
Krishna Vandhaan
Server Sundaram
Naanal
Manam Oru Kurangu
Dheerga Sumangali
Engal Kula Deivam
Kanne Papa
Seetha
Maligai Poo
Panchavaarna Kili
Nathayil Muthu
Nenjirukumvarai
Murugan Adimai
Sondheim
Kasturi Vijayam
Kannada
Intho Enthan Deivam
Roshakari
Namma Veetu Deivam
Annai Abhirami
Deivam
Television 
Madisaar Maami in 1994 (Sun TV, Tamil)
Adiparashakthi ( DD Podhigai), Daivathin Makkal ( Surya TV, Malayalam) and Pettamma (DD Malayalam) in 1995
Kudumbam (Sun TV, Tamil) in 1998
Mangai ( Sun TV, Tamil) from 2000-2003
Anandham (Sun TV, Tamil) in 2004
Raja Rajeswari ( Sun TV, Tamil) fron 2005-2007
Sthree 2 (Asianet, Malayalam) in 2006
Namma Kudumbam (Kalaignar TV, Tamil) from 2008-2009
Shree Krishna Leela (Asianet, Malayalam) from 2008-2009
Shree Mahabhagavatham (Asianet, Malayalam) in 2009
Devimahathmyam (Asianet, Malayalam) in 2010
Adi Parasakthi (Star Vijay, Tamil) from 2010-2011
Shabarimala Shri Dharmashashtha (Asianet, Malayalam) in 2011
Bhairavi Aavigalukku Priyamanaval (Sun TV, Tamil) from 2012-2016
Sathyam Shivam Sundaram (Amrita TV, Malayalam) from 2016-2018
Ithikkarapakki (Surya TV, Malayalam) from 2020
Awards
Doctorate from Satyabama College in 2009
Best Actress for Iru Malargal from Tamil Nadu State Film Awards in 1967
Best Actress for Namma Veetu Dheivam from Filmfare Awards South in 1970
Filmfare Special Award South for Dheerga Sumangali in 1974
Lifetime Achievement Award from Kerala State Film Awards in 2004
Second Best Actress for Ithiripoove Chuvannapoove from Kerala State Film Awards in 1984
Chalachitra Rathnam Award from Kerala Film Critics Association Awards in 2013
Best Character Actress for Sathyam Sivam Sundaram from Janmabhoomi Television Awards in 2018
Nagi Reddy Memorial Awards in 2013
Congress Managalir Awards in 2017
Nakshathira Sathanaiyalar in 2019
Lesser-known Facts
The actor has a doctorate from Satyabama College which she procured in 2009.
Her birth name is Deivanayaki and was born in 1948 in Trichur.
The star has acted for more than six decades in the South Indian cinema. 
K.R. Vijaya has done over five hundred films all through her career. 
She is also known as Punnagai Arasi.
Her father Ramachandran, ex-army acted in M.R. Radha's drama troupe.
Her debut film was Karpagam, released in 1963 and her hundredth film is Nathayil Muthu. 
K.R. Vijaya's husband M. Sudarshan was the CEO of Sudarshan Trading Company and a movie producer.